You must allow cookies and JavaScript for a proper shopping experience.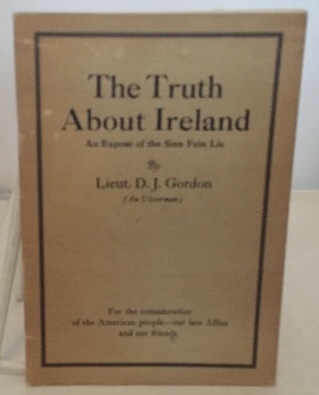 Price: $50.00
Publisher: Oakland, CA, Kennedy Co. : 1920
Seller ID: A37803
Binding: Stapled wraps
Condition: Very Good+
---
This is a small format booklet with cardstock covers and a stapled spine. The covers are noticeably toned, especially the edges. The text pages are clean and bright. "Sinn Féin was founded on 28 November 1905, when, at the first annual Convention of the National Council, Arthur Griffith outlined the Sinn Féin policy, "to establish in Ireland's capital a national legislature endowed with the moral authority of the Irish nation". The party contested the 1908 North Leitrim by-election, where it secured 27% of the vote. Thereafter, both support and membership fell. At the 1910 Ard Fheis (party con...
View More...
Price: $30.00
Publisher: Chicago, IL, J. C. Walsh : 1921
Seller ID: A36547
Binding: Stapled wraps
Condition: Good
---
This is a trade sized booklet with paper wrappers and a stapled spine. The booklet is in Good only condition and was issued without a dust jacket. The covers are noticeably toned due to the acid content of the paper. The top edge of the pages have been chewed off (or torn). No paper loss affects the text. "Mr. J. C. Walsh, who was America's special correspondent at the Peace Conference, has brought out The Peace Negotiation in Ireland...which is an admirable corrective for the specious pro-British articles that have lately been filling our American papers."
View More...